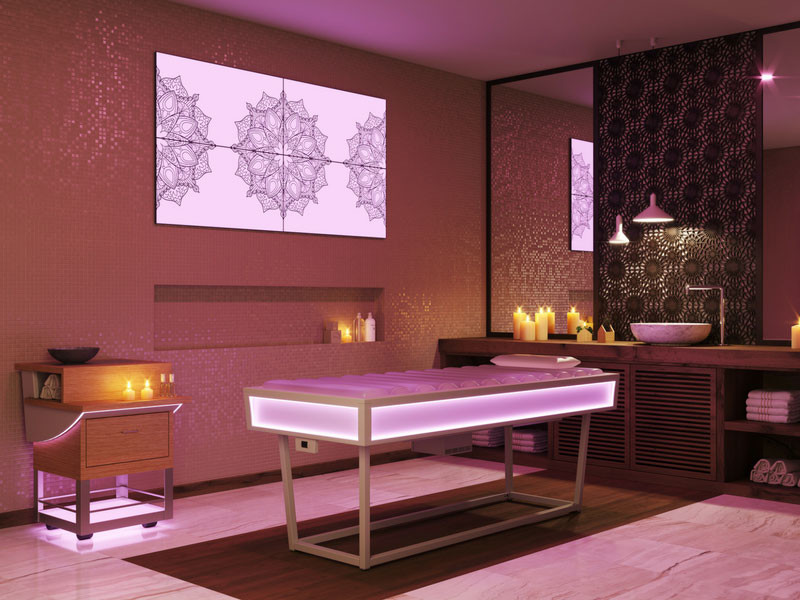 Lys
Lys is the 3 in 1 wellness bed for treatments and massages, the novelty from ISO Benessere able to combine a simple and clean line with all the versatility of 3 beds in 1.
Lys is supplied with a water mattress but thanks to an easy connection system, it allows to replace the Water Mattress with the Himalayan Pink Salt or the Quartz Sand, completely transforming its functionality and the proposed treatments. Its Water Mattress is hypoallergenic and studied in compartments joined together to avoid the annoying "wave" effects. Each small movement of the customer on the water creates a series of "microwaves" that offer a continuous massage on the body, promoting the venous return and lymphatic circulation.
Lys with Pink Himalayan Salt is suitable to rebalance the body and thanks to the heat released, it amplifies the micro-massage practised by the granulometry of salt and its many benefits.
Lys with Quartz Sand relaxes the body creating a feeling of well-being that involves the various treatments. The hot quartz sand - from 32 ° to 40 ° - contained inside, thanks to its chemical-physical composition, has an action not only of cleaning, disinfecting and alkalizing but also of relaxing muscles, bones and joints.
Lys is the 3 in 1 wellness bed for treatments and massages equipped with a patented, fast, safe and easily adjustable heating system. Its squared lines, net and minimalmake it unique and, at the same time, enormously stable. Its wooden frame is characterized by a plexiglass slab which surrounds the massage bed and, through a remote control, lights up the surroundings for a charming and pleasant atmosphere inside the cabin. Both maintenance and cleaning are very easy.
Lys is the minimal frontier of Wellness, able to capture all lovers of sober and smart lines and to give a positive feeling of immersion in colours.
If there are other equipment by Iso Benessere set in the environment, the colour of the lights coming from Lys can be coordinated wirelessly.
Features:
Chromotherapy

Heat Control

Aromatherapy
Complimentary
20 protective sheets in cartene

product for water maintenance for a year or so

inflatable headrest cushion in hypoallergenic material
Technical Data
Weight: 112 Kg
The additional weight of the mattress filled with water: 150 Kg
Working Voltage: 230V±10%, 50/60Hz N∼
Dedicated Optional
OPTSABBIA: A kit of 225 Kg of washed Quartz Sand
OPTSALE: A kit of 150 kg of pink Himalayan Salt, ground with a 2/3 mm grain size
OPTCUSCINO: Prone position treatment cushion for use with salt and sand
OPTTX1: Wireless signal transmitter card for colour synchronization with other Iso Benessere equipment
OPTRX: Signal receiver board for colour synchronization with other Iso Benessere equipment (excludes the use of the remote control)