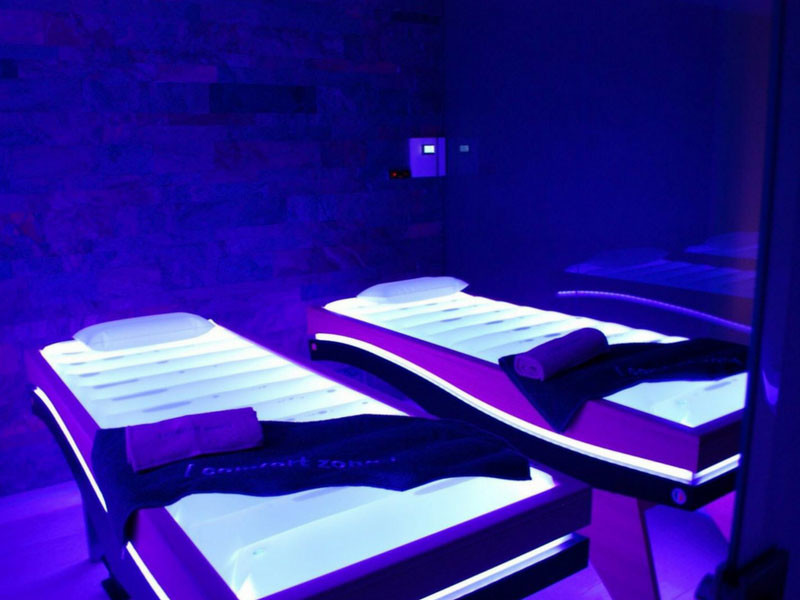 Equilibrium
The water massage bed Equilibrium is an exceptional tool for work, that allows unique massage techniques, but most of all, it offers to its users, an unforgettable emotional experience.
Three in one
Equilibrium is provided with a water mattress but thanks to its optional it can be transformed into three different spa beds, a simple connection system, allows the replacement of the water mattress by the Himalayan salt or by Sand, completely transforming it, its functionality and the work protocols that can be offered to the customer.

Equilibrium is equipped with a hypoallergenic mattress, with communicating compartments, in order to avoid annoying "wave" effects, keeping the user, by whom practices the massage, in the desired position. Every small movement of the client on the water creates a series of "microwaves" that makes a continuous body massage favouring the venous return and the lymphatic circulation. Its powerful chromo-therapy system makes you feel like you're "floating" on the color.
Equilibrium with Himalayan salt is able to rebalance the body. The heat and the micro-massage practised by its particles further facilitates its capacity of interaction with the client, furthermore the salt takes the customer's shape.
Equilibrium with Sand has the property to bring the body to a complete relaxation, creating a welfare sensation that accompanies the client during different beauty treatments. The warm quartz sand - from 32° till 40° - inside it, thanks to its chemical-physical characteristics, acts as a cleanser, disinfectant and alkalizing element, relaxes the muscles, the bones and the joints.
Equilibrium allows the operator to reach all the parts of client's body thanks to a great facility of movement, its patent heating system is fast and safe and allows to regulate the bed temperature with great ease.
The water massage bed Equilibrium is equipped with a remote control, by means of which the environment can be illuminated by the customer's desired color, or the one more proper for the treatment.
Both the maintenance and the cleaning are easy to be made. Equilibrium represents an innovative, leading-edge technology that revolutionizes the way to make Wellness and it projects the "simple" massage toward an unforgettable multi-sensory experience.
If inside the environment there are other equipment of Iso Benessere line, the color of the light emitted by Equilibrium is coordinated by wireless so that, from every equipment is diffused light of the same color.
Equilibrium is available in two color combinations: natural wood colour and white or natural wood colour and Wengé.
Features:
Chromotherapy

Heat Control

Aromatherapy
Complimentary
20 protective sheets in cartene

product for water maintenance for a year or so

inflatable headrest cushion in hypoallergenic material
Technical Data
Weight: 100 Kg (220 lb)
Additional weight of mattress full of water: 150 Kg (491 lb)
Working Voltage: 230V±10%, 50/60Hz N∼
Dedicated Optional
OPTSABBIA: 225 kg sack of washed quartz sand
OPTSALE: 150 kg sack of pink Himalayan salt granulometry 2/3 mm
OPTCUSCINO: Prone position treatment cushion for use with salt and sand
OPTTX1: Wireless transmitter board for colors synchronization
OPTRX: Wireless receiver board for colors synchronization (excludes the remote control use)